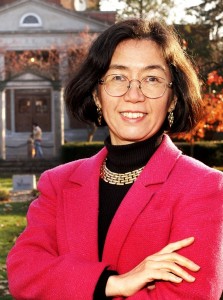 Contact Information:
Dr. Huping Ling
Department of History
Truman State University
Kirksville, Missouri 63501
Tel: 660-785-4654 (Voice)
Fax: 660-785-4337 (Dept.)
E-mail: hling@truman.edu
http://hling.sites.truman.edu               History Department
Areas of Research:
Chinese American Woman.
Asian American Woman.
Asian American Urban Communities
Immigration and Ethnicity
Chinese Intellectuals in America
Courses Taught:
Asian American History
Asian American Women
Seminar on Chinese American Women
Graduate Seminar on Chinese Diaspora in North America
Graduate Seminar on Asian Americans
Graduate Seminar on Asian American Experiences
East Asian Civilization I & II
History of China I & II
History of Japan I & II
U.S. History
Introduction to History and Historiography
Huping Ling, Ph. D.
Professor of History
Truman State University
An internationally renowned historian and prolific award-winning writer, Huping Ling(令狐萍) is Professor of History, the founder of the Asian Studies Program, and the past Convener (Department Chair) at Truman State University. She is the Changjiang Scholar Chair Professor, selected by the Chinese Ministry of Education, at Wuhan Theoretical Research Center of Overseas Chinese Affairs Office of the State Council and China Central Normal University, and a Visiting Professor of the Institute of Overseas Chinese Studies at Jinan University. She was the Executive Editor for the Journal of Asian American Studies(JAAS2008-2012), and serves as Asian American Studies Today series editor for Rutgers University Press. She also serves as a consultant to the Overseas Chinese Affairs Office of Guangdong Provincial Government and on the Board of Directors of Women Writers Association in Shanxi Province of the Chinese National Writers Association. A Ford Foundation Prize-winning author, she has published eleven books and over hundred articles on Asian American studies, including immigration and ethnicity, assimilation and adaptation, transnationalism, family and marriage, employment patterns, and community structures. She has been featured in The World Journal (Feb. 2, 2012, Jan. 15, 2006), Chicago Daily Herald,Dallas Morning News,West End Word (Feb. 4, 2005), St. Louis Post-Dispatch (Feb. 2, 2005), St. Louis Chinese American News, St. Louis Chinese Journal,the Overseas Chinese World, River Front Times, among others, and appeared at "Charles Brennan Show" KMOX 1120, "Voice of St. Louis" (Feb. 4, 2005), KWMU 90.7 (NPR in St. Louis) "St. Louis on the Air" (July 5, 2005), among others. She has also been included in many books/encyclopedias on famous Chinese Americans and authors. She is frequently invited to lecture on Asian cultures and Asian American experiences at conferences, universities, schools, libraries, government and private agencies, and community organizations, nationally and internationally.